Abandoned for 44 years at the 1964 World's Fair grounds site in Queens, New York and resurrected in only a few…
NOMA Magazine – National Award of Excellence
New York Construction Magazine – Cultural Project of the Year
Architectural Lighting Magazine – Best use of Color
Design Develop Construction Magazine – "Beautiful Buildings, for the Public"
MASterworks Award – Best Restoration
Caples Jefferson  – Architects
L'Obseravatoire – Lighting Design
National Cathode Corp. – Lighting
Pretty Tall Films – Producer / Director
After five years of cumulative conception, design, fabrication, redesign, construction and finally fruition, the Cypress Bridge lanterns are monumental…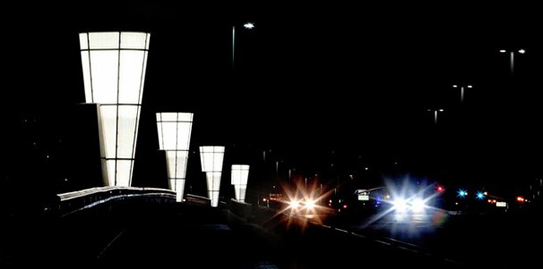 T.Y. Lin – Architects
Illumination Arts – Lighting Design
Architectural Glass Art Inc. – Glass Sculpture
National Cathode Corporation – Lighting
N.M.I. Industrial Holdings – Photo's
The artist "Denise Ames" of AmesCosma was commissioned by the "Empire State Building, New York" to design and fabricate this magnificent glass sculpture to conclude Empire State Building's $20 million dollar renovation.
In Denise's words: "My concept was to create a whole world inside this window" This consists of 16 glass panels with 15,000 stars, 5,000 circles etched on 12 levels weighing in at 2,900 pounds.
"The Lighting Practice" felt the best way to illuminate this sculpture in conjunction to the artists desire was to illuminate it with custom curved cold cathode lamps ranging in length from 8 ¾" to 30 3/8" that were precisely designated by the artist. Utilizing straight linear light sources or L.E.D.'s would loose the artist's concept.
National Cathode Corp. engineered and supplied 53 handcrafted lamps in 9 sizes on two power supplies to meet everyone's design criteria.
Beyer Blinder and Belle – Architects
The Lighting Practice – Lighting Design
Amses Cosma – Glass Sculpture
National Cathode Corp. – Lighting
John Lei – Photo's
The criteria's of Smart Step™ was to save enormous amounts of energy for R.O.I., meet the specifiers request of one or two additional light levels and enhance National Cathode Corp.'s existing salient features.
Considering the human eye and our brain cannot notice a 10 to 13 percent difference in light levels, each step you are viewing is minimal. The digital foot candle read out adjacent to the depicted primary voltage clearly shows the appropriate light levels from one foot away from the cold cathode lamp.