National Cathode Corporation (N.C.C.)was incorporated in 1957 specializing in the production of hand fabricated, T8, long life, cold cathode lamps with specifically engineered solutions to produce one of a kind lighting systems.
National Cathode Corporation's level of engineering, innovation, quality control, technical support, dedication and service far exceeds any other cold cathode manufacturer in North America mainly due to the fact of our past performance, longevity, innovative solutions and our specifiers overwhelming satisfaction.
National Cathode Corporation continues persistently to design and fabricate Cold Cathode Lighting Systems with technology breakthroughs that enhance our existing prominent systems characteristics that no other singular light source has or could be compared to.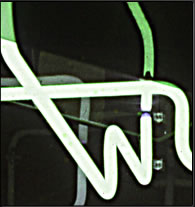 National Cathode Corporations' cold cathode lighting systems meet the full criteria of ANSI / IES RP-16-10 and IFAY for all the required listing marks of U.L., C-U.L.-US, C.S.A., E.S.A., C.C.E.A. and with total compliance of I.M.E.R.C.
It takes a great deal of time, patience, ingenuity, craftsmanship, code awareness and technical expertise for National Cathode Corporation to meet the specifier's design criteria, to do so performance and function are the key elements for a successful project completion. These abilities combined with our systems salient features have allowed National Cathode Corporation to be the industry leader for over 50 years.
In addition to National Cathode Corporation being a Green Lights Ally we are the only cold cathode lamp producer who is a "Closed-Loop Recycling Manufacturer" utilizing reclaimed mercury inside of our lead free glass lamps.